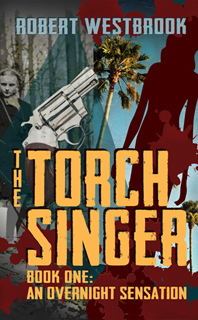 Volume One of Robert's new novel,
Now available digitally from Amazon.com/Kindle for $3.99!
THE TORCH SINGER is a sweeping historical saga that takes the reader from the horrors of Nazi occupied Poland to the glittery excesses of Hollywood in the 1940's and 50's: the rise and fall of Sonya Saint-Amant, a B-singer who schemes her way to fame and brief glory, breaking all the rules.
"A brilliant, engaging and wholly unpredictable story of courage, survival and self- reinvention . . . I was completely taken by it . . . Interesting, complicated and wholly engaging characters. [Westbrook] is obviously a born storyteller and a bit of a magician" – Ally Sheedy
Sonya is a bad girl heroine in the tradition of Scarlett O'Hara, Becky Sharp, and Mildred Pierce, a woman driven to desperate deeds by desperate circumstances. This is a page-turning epic of fortune-hunters and dreamers set adrift in the war years, a story that spans two volumes and two Hollywood generations – narrated with dark humor by Sonya's son, Jonno, a child actor in a hit TV sit-com who gradually becomes ensnared in his mother's web of ambition, blackmail, and murder.
The novel can be downloaded to a Kindle or any electronic device by going to Amazon.com. If you are a Mac user, you will need to download the free reading App -- Kindle For iPad, iPhone, or iPod Touch -- at the App Store. Follow this link for instructions.
Volume Two, AN OVERNIGHT SENSATION, the final installment of THE TORCH SINGER saga, will be published in Summer 2014.