The Saudi Connection
with Jack Anderson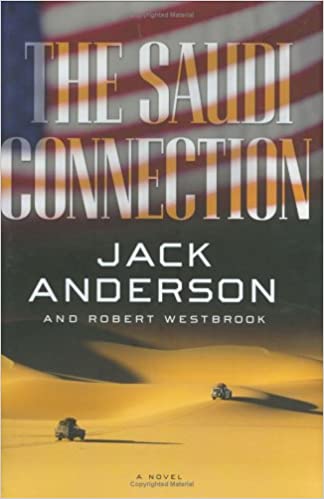 The Saudi Connection
After having to hand back his Pulitzer Prize due to a massive cover-up scandal, Ron Wright's reputation as a journalist with the Washington Post crashed and burned, taking his marriage with it. Despite being out of the game, Ron never lost his nose for trouble. And as all good reporters know, sometimes trouble has a tendency of getting the scoop on you instead of the other way around.
After receiving a cryptic message from an old friend, Ron takes the first train from Washington D.C. to New York City—and quickly finds himself in a deadly chase after a friend and long-trusted news source ends up dead in a mysterious accident near his home in Paris. Wright, thrust into the lead of a lifetime key, must connect this bizarre turn of events to unlock one of the most cover-up secrets of the modern era: Saudi Arabian royalty has long provided funding for a powerful group in America…funds that have been accumulating to launch the single most vicious attack on American soil.
Beginning in France and stretching across the Middle East, Ron Wright, must enlist the help of a beautiful journalist from Al-Jazeera, to uncover the story of the century. Dodging the hail of flying bullets, running from international terrorists, and doing his best to escape those who would stop his story from ever reaching print, Ron Wright—who used to feel the most comfortable behind a computer—now finds himself under the gun…and the term "deadline" may soon have a whole new meaning.
"Combining the knowledge of veteran journalist Anderson with the storytelling skills of veteran novelist Westbrook, the book delivers plenty of action. Wright is a sympathetic character, and the story, which revolves around a group of American supremacists and their foreign backers, is timely and effectively constructed." —Booklist

"It's a solid plot, but the prickly relationship between the humorous, indefatigable Ron and beautiful, opinionated Nevver keeps readers going until the expected but satisfying climax." —Publishers Weekly