An Overnight Sensation | An Almost Perfect Ending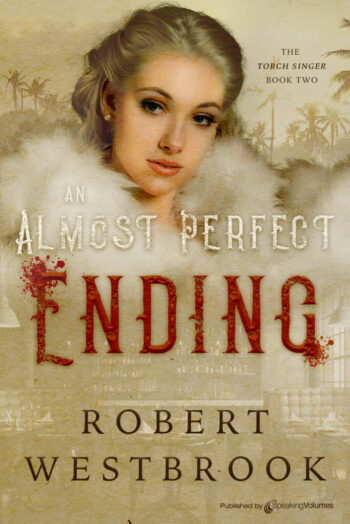 An Almost Perfect Ending (#2)
An Almost Perfect Ending opens with sultry heroine Sonya Saint-Amant at the height of her career—a glittering, triumphant appearance at Ciro's, the clubhouse for the stars in 1950's Hollywood where everyone wants to claim her as their friend.
But in 1954, popular music is undergoing a revolution in which all but the biggest stars will be cast aside. With her looks and popularity fading, Sonya believes she has come up with the perfect plan to save her career…if only she can maneuver a tricky path through the many dangers that beset her, a vortex of politics, sex, blackmail, and murder…
"Pacy and unstoppable, the second book in the The Torch Singer series takes over where the first left off, grabbing your wrist, tugging you along, refusing to let go." —Evening Standard
"The Torch Singer exposes the fragility of fame. The higher the edifice the greater the risk that some element of deep-set animal emotion or human baseness will bring everything crashing down…and watching it happen is not just compulsive—it's addictive and unmissable." —Evening Magazine
"Robert Westbrook is a born storyteller and a bit of a magician."
—Ally Sheedy
An Overnight Sensation (#1)
An Overnight Sensation starts in 1956 with a scandalous love nest murder, then rewinds to Sonya at the age of 17 in 1940, a dreamy girl in the Royal Box of the Krakow Opera. When Sonya's mother is hanged by the Nazis, she must grow up quickly.
Using her wits and beauty, Sonya escapes Poland with the help of partisan fighters and makes her way to London during the Blitz. In 1943, she finagles a passage to America on the Mauretania, a dangerous North Atlantic crossing on a troop ship full of men. As the ship steams north into Arctic waters evading enemy submarines, Sonya almost wins at a high-stakes game of love…only to arrive in New York alone and desperate, determined to outwit fortune and become a star.
An Overnight Sensation is a tale of murder, blackmail, fortune-hunters, dreamers, and the price paid for living large.
"A brilliant, engaging and wholly unpredictable story of courage, survival and self-reinvention . . . I was completely taken by it . . .Interesting, complicated and wholly engaging characters. [Westbrook] is obviously a born storyteller and a bit of a magician." —Ally Sheedy